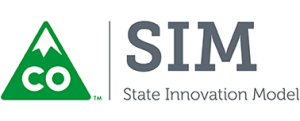 The Colorado State Innovation Model (SIM) touches nearly every aspect of our health system, setting the stage for a sweeping transformation that will help us accelerate our progress toward the Triple Aim of lower costs, better care and improved population health. Colorado's plan, entitled "The Colorado Framework," creates a system of clinic-based and public health supports to spur innovation. The state will improve the health of Coloradans by:
1. Providing access to integrated primary care and behavioral health services in coordinated community systems;
2. Applying value-based payment structures;
3. Expanding information technology efforts, including telehealth; and
4. Finalizing a state-wide plan to improve population health.
Colorado's SIM is being executed by the State of Colorado and a broad range of stakeholders across the public and private sectors toward a common goal:
To improve the health of Coloradans by providing access to integrated physical & behavioral health services in coordinated systems, with value-based payment structures, for 80% of Colorado residents by 2019.
To join in this important goal, the Colorado Behavioral Healthcare Council (CBHC) is facilitating a subgrant program within the Colorado SIM initiative to pilot integrated health homes within four Community Mental Health Center (CMHC) settings. Through the Bi-directional Integration Demonstration & Practice-based Research Pilot Program, the four selected CMHCs will provide comprehensive behavioral and physical health care to children, adolescents, and adults to stabilize and manage their illness and support recovery.
To learn more about the Colorado SIM office, please visit their website.

In partnership with the Colorado SIM Office, CBHC was pleased to announce the four sites selected for the Bi-Directional Integration Demonstration and Practice-Based Research Pilot Program within the larger Colorado SIM initiative in November 2015. The sites are listed below (in alphabetical order):
Community Reach Center, based in Commerce City
Jefferson Center for Mental Health, based in Lakewood
Mental Health Partners, based in Boulder
Southeast Health Group, based in La Junta
This was a highly competitive application process that clearly demonstrated the strength, innovation, and dedication of Colorado's behavioral health network. To read the full press release, please click here.
Stay tuned to this site for information on the proposed approach for each of these pilot sites and other SIM updates.
The Project described was supported by Funding Opportunity Number CMS-1G1-14-001 from the US Department of Health and Human Services, Centers for Medicare and Medicaid Services.