CBHC Staff
Doyle Forrestal
CEO
Phone: 720-573-9367
Email: dforrestal@cbhc.org
Doyle Forrestal is the Chief Executive Officer of CBHC. Before rejoining the organization in 2015, she served as the Executive Officer for the U.S. Department of Health and Human Services (HHS) in Region VIII, Office of Intergovernmental and External Affairs. In that capacity, she helped implement provisions of the Affordable Care Act with state and tribal governments across Colorado, Utah, Montana, Wyoming, North Dakota, and South Dakota.
More…
Prior to working with HHS, she was the Director of Public Policy with CBHC and worked with the Colorado Legislature for nearly a decade. She has over 18 years of experience guiding, developing, and implementing legislative strategy and policy at the federal, state, and local levels. She received a Bachelor of Arts in Political Science degree from the University of Colorado and a law degree from the University of Denver.
Frank Cornelia, MS, LPC
Deputy Director & Chief Strategy Officer
Phone: 720-573-9371
Email: fcornelia@cbhc.org
Frank Cornelia, MS, LPC is the Deputy Director & Chief Strategy Officer for CBHC. Before joining the organization in 2012, he was a direct care professional with years of experience providing services to diverse client populations. In his role with CBHC, he reports directly to the CEO and is responsible for developing and maintaining relationships with a variety of community and government stakeholders.
More…
He also helps set the strategic vision for the organization. Frank provides leadership to CBHC's advocacy team and leads the development of CBHC's yearly policy platform. He holds a bachelor's degree in psychology from the University of Minnesota and a master's degree in health and human development from Montana State University. He and his wife Jenny live in Denver with their two children, Madeline and Max, and their dog, Gopher.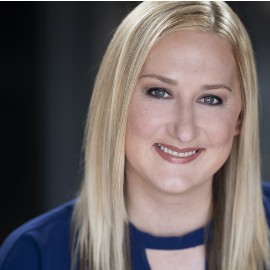 Natalie Strom
Chief Administrative Officer
Phone: 720-573-9366
Email: nstrom@cbhc.org
Natalie Strom serves as the Chief Administrative Officer for CBHC. She graduated with a Bachelor of Arts in Psychology degree from the University of Iowa. Prior to joining the CBHC team in 2017, Natalie worked in a number of fields, including journalism, communications, education, and management roles. She won numerous awards during her time as an editor and journalist, and her love for the arts inspired her to start her own nonprofit for local artists while living in Florida.
More…
In her current role, she serves as the executive assistant to the CEO, runs office management, develops strategic plans within CBHC and across the membership, works closely with HR, financing, accounting, and marketing, coordinates the CBHC annual conference and other special events, and is the direct liaison to the membership's leadership teams. Natalie is also a certified Adult Mental Health First Aid instructor and a certified teen Mental Health First Aid instructor.
Barbara Becker, PhD
Director, Mental Health First Aid Colorado
Email: bbecker@cbhc.org
Barbara Becker, Ph.D., is a licensed professional counselor and serves as the Director of Mental Health First Aid Colorado (MHFACO), where she oversees the expansion of mental health literacy through the broad, statewide dissemination of Mental Health First Aid (MHFA). She is responsible for developing community relationships and ensuring that MHFA is available across the state with a health equity lens.
More…
Barbara is also an appointed member of the Commission on Suicide Prevention, where she represents licensed mental health providers in Colorado. She was a founding member of the Colorado Chapter of the American Foundation for Suicide Prevention, where she served as President for two years. In 2015, Barbara was a recipient of the Sandy Martin Grassroots Award given by the American Foundation for Suicide Prevention.
CBHC Board Officers
Colorado Behavioral Health Council (CBHC) is a non-profit entity consisting of 23 member organizations. Our members guide our principles and our advocacy. The CBHC Board of Directors is elected on an annual basis.
President
Bill Henricks
AllHealth Network
President-Elect
Michael Allen
SummitStone Health Partners
Past President
JC Carrica
Southeast Health Group
Secretary
Shelly Burke
Axis Health System
Treasurer
Kiara Kuenzler
Jefferson Center for Mental Health
MSO Representative
Dixie Casford
Mental Health Partners
National Council Representative
Carl Clark
Mental Health Center of Denver
Ex-Officio Member
Brian Turner
Solvista Health
Ex-Officio Member
Liz Hickman
Centennial Mental Health Center
Find Out More
As an advocacy organization, we are dedicated to our community and the policies that affect it. Learn more about each of our policy priorities, which are voted on by our membership.
Our Policy Positions