CBHC Staff
Kara L. Johnson-Hufford, MPA
Chief Executive Officer
Phone: 720-573-9367
Email: kjohnson-hufford@cbhc.org
Kara L. Johnson-Hufford, MPA is the Chief Executive Officer of CBHC. She brings with her 20+ years successful experience providing management and leadership in the administration of health and human services programs. Before joining the organization in the spring of 2023, she served as the Deputy Executive Director of the Health Facilities and Emergency Medical Services Division at the Colorado Department of Public Health and Environment (CDPHE). In that capacity, she directly oversaw and led several branches that were responsible for the regulatory oversight and support of Colorado's expansive healthcare system.
More…
Kara worked with the State of Colorado for nearly 13 years, the last 9 being with CDPHE, serving within a variety of roles across the behavioral health, intellectual and developmental disabilities and overall healthcare industries. Additional experiences include serving as an ex-officio member of the Behavioral Health Entity Implementation and Advisory Committee (BHE-IAC) and the CDPHE representative on the Governor-appointed Mental Health Advisory Board within the Colorado Department of Human Services.
Kara is deeply invested in people, productive working relationships and processes that positively impact Colorado's behavioral healthcare system. She has had an opportunity to influence and inform those processes from a state level these last number of years and she is eager to do so now by returning to her roots on the provider, person-centered care side.
Kara obtained her Master in Public Administration from the University of Colorado Denver in 2015, specializing in health systems, management, policy and law. She brings numerous years of successful experience within the health and human services field, ranging from direct service provision, mental health/psychiatric supports, quality and case management to regulatory oversight and survey processes and procedures. Outside of work, Kara can be found with her spouse and their cattle dog out hiking Colorado's trails or gallivanting the globe.
Frank Cornelia, MS, LPC
Deputy Executive Director
Phone: 720-573-9371
Email: fcornelia@cbhc.org
Frank Cornelia, MS, LPC is the Deputy Executive Director for CBHC. Before joining the organization in 2012, he was a direct care professional with years of experience providing services to diverse client populations. In his role with CBHC, he reports directly to the CEO and is responsible for developing and maintaining relationships with a variety of community and government stakeholders.
More…
He also helps set the strategic vision for the organization. Frank provides leadership to CBHC's advocacy team and leads the development of CBHC's yearly policy platform. He holds a bachelor's degree in psychology from the University of Minnesota and a master's degree in health and human development from Montana State University. He and his wife Jenny live in Denver with their two children, Madeline and Max, and their dog, Gopher.
Edie Sonn, MPP
Senior Director of External Affairs
Phone: 720-573-9368
Email: esonn@cbhc.org
Working alongside deputy director Frank Cornelia, Edie is responsible for deepening CBHC's relationships at both the local and state levels. In addition to representing the organization with key stakeholder groups and at the Colorado General Assembly, she will be assisting members with their own outreach and engagement strategies.
More…
Edie is deeply familiar with CMHCs and their issues. She served as a board member of WellPower (formerly Mental Health Center of Denver) for much of the last 20 years, and was actively involved in the development of Colorado's integrated care SIM plan through her professional work at the Center for Improving Value in Health Care.
Sonn holds a master's degree in public policy from Duke University and is a bachelor of arts graduate and a Boettcher Scholar from Colorado College. She was named a 2018-2019 Governor's Fellow by Governor John Hickenlooper. In 2017, she was named the "Outstanding Woman in Business: Communications/Media" by the Denver Business Journal. A Denver native, Sonn is a die-hard Avalanche and Rockies fan, and begins every baseball season convinced that this is the year the Rockies will finally have reliable pitching.
Edie comes to CBHC after 8 years as the Vice President of Public Affairs at Pinnacol Assurance, overseeing government relations, corporate social responsibility, community engagement and communications for Colorado's state-chartered workers' compensation carrier. Previously, she served as the vice president of strategic initiatives for the Center for Improving Value in Health Care; and as a public affairs and public relations consultant, developing legislative, communications and community outreach strategies for a wide range of insurance, healthcare and nonprofit clients.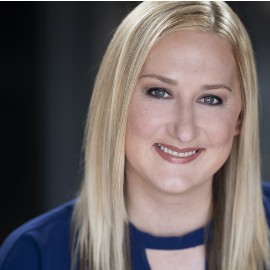 Natalie Strom
Chief Administrative Officer
Phone: 720-573-9366
Email: nstrom@cbhc.org
Natalie Strom serves as the Chief Administrative Officer for CBHC. She graduated with a Bachelor of Arts in Psychology degree from the University of Iowa. Prior to joining the CBHC team in 2017, Natalie worked in a number of fields, including journalism, communications, education, and management roles. She won numerous awards during her time as an editor and journalist, and her love for the arts inspired her to start her own nonprofit for local artists while living in Florida.
More…
In her current role, she serves as the executive assistant to the CEO, runs office management, develops strategic plans within CBHC and across the membership, works closely with HR, financing, accounting, and marketing, coordinates the CBHC annual conference and other special events, and is the direct liaison to the membership's leadership teams. Natalie is also a certified Adult Mental Health First Aid instructor and a certified teen Mental Health First Aid instructor.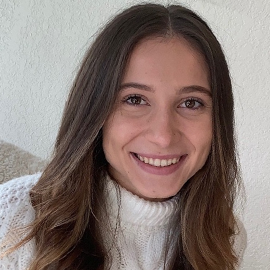 Betsy Molgano
Program Director MHFACO
Phone: 720-573-3585
Email: bmolgano@cbhc.org
Betsy Molgano is the Program Director of Mental Health First Aid Colorado and Policy Analyst for CBHC. She graduated from the University of Colorado Boulder with a BA in Political Science and a minor in Philosophy. Prior to joining CBHC, she worked for the Aurora Public Defender's Office as an AmeriCorps Vista and later joined the CBHC team as an intern. Her work with the Public Defender's Office drove her to pursue work serving indigent people with behavioral and mental health needs.
More…
In her current role, she works with a statewide network of MHFA coordinators and instructors to support the delivery of the Mental Health First Aid educational training by providing grant funding to cover the cost of materials and instructor's time. She is a certified Adult and Youth MHFA instructor, and enjoys co-instructing local classes with instructors from the Community Mental Health Centers. Ms. Molgano also provides policy support through research preparation and data analysis.
CBHC Board Officers
Colorado Behavioral Health Council (CBHC) is a non-profit entity consisting of 17 member organizations. Our members guide our principles and our advocacy. The CBHC Board of Directors is elected on an annual basis.
President
Michael Allen
SummitStone Health Partners
President-Elect
Kiara Kuenzler
Jefferson Center for Mental Health
Past President
Bill Henricks
AllHealth Network
Secretary
Dixie Casford
Mental Health Partners
Treasurer
Dante Gonzales
Centennial Mental Health Center
National Council Representative
Carl Clark
WellPower
Ex-Officio Member
Jason Chippeaux
Health Solutions
Ex-Officio Member
Victoria Romero
San Luis Valley Behavioral Health Group
Find Out More
As an advocacy organization, we are dedicated to our community and the policies that affect it. Learn more about each of our policy priorities, which are voted on by our membership.
Our Policy Positions